Checklist for Getting Your Home Ready to Sell
You want your home to look so inviting from the street and in photos that every buyer who drives by will want to see it.  The most important thing a seller can do is have the outside of the property look attractive, clean and neat.
If the outside of  your home looks immaculate you send a signal that you care about your home and its condition. It tells buyers that you took care of maintenance  issues as they came up so they may not have any surprises to deal with for a while.
Start by taking a good look at your property from across the street.  Try to pretend you are a home buyer and this is the first time you are seeing the property. Look at each part top left, top middle, etc.  Check out the trees, are there tree branches that need trimming? Is there a dead tree you were always going to take out but haven't? What is the condition of your roof?
Your Home is in a Beauty Contest
Your home needs to make a great first impression. Follow this checklist to find the most cost-effective repairs.
Exterior Checklist
Pressure wash walkways, drive way, & curbs
Pressure wash house if not repainting
Clean stained roof tiles
& More…
Interior Checklist
Clean light switches plugs, and switch plates.
Inspect and clean windows
Repaint trim, doors, and walls
& More…
Download this Free Checklist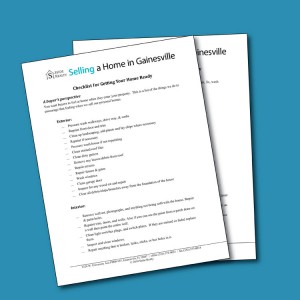 What's the catch? Our evil plan is to show you how amazing our brokerage is, so you realize that there is no one else in the world you'd trust more to help you sell your home.
Privacy Policy: We hate SPAM and promise to keep your email address safe.