5 Dangers to Watch for When Buying a FSBO
You may have found a home you like that is for sale by an unrepresented seller, known in the business as a For Sale by Owner or FSBO. If you plan on buying this home, my advice is "Buyer Beware". Make sure you understand the process and what you are entitled to.
Many unrepresented sellers will eventually list with a Realtor, so it may be wise to wait until the home is listed so you can use an agent to have the protection and advice you need.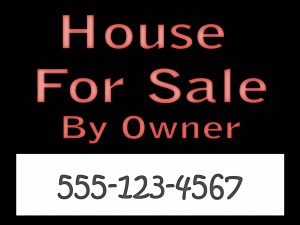 Most unrepresented sellers don't know the rules and laws about selling a home in Florida. Be extra careful when writing an offer. The sellers are less accountable for mistakes and omissions than a licensed professional. It is up to you to know what you are agreeing to.
Most sellers expect the buyer (you) to pay for most of the closing costs. Be careful you are not paying more than your fair share. Sellers are unrepresented because they are trying to save as much money as possible. They may try to pass closing costs on to you they would normally be paying.
Knowing what a home is actually worth is crucial. Most sellers have a set price in mind. They base their number on a lot of things, but it's rarely based on past sales with similar features and size. Check your comparable sales to be sure this home will have an appraised value matching your purchase price. You don't want to buy a home that is overpriced or find out you can't buy it because it did not appraise out.
 Most sellers don't understand what to disclose so they just skip disclosing anything. You are entitled to be told anything they know of that can materially affect the value of the home prior to making an offer. If you are not made aware of every defect, you cannot consider it's impact on the value when you are considering what to pay for the home.
 Once you enter a contract it becomes the road map to closing. Many unrepresented sellers don't understand that the contract controls everything and they make up their own rules as they go, no matter what the contract says. You may have to hire a professional to help you clean up the mess. Don't assume that the closing attorney is watching out for you, the seller is probably their client.
You don't have to do this alone. You can hire a professional to represent you even with a for sale by owner. We'd suggest getting a Realtor to help you through all the stages, and you can even ask the sellers to pay their fee. If you are just concerned about the contract and closing you can hire a real estate attorney to represent you.