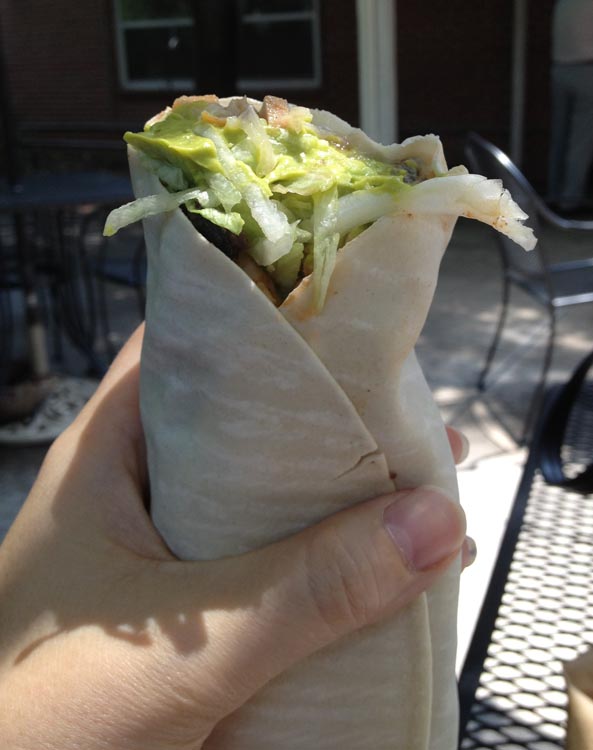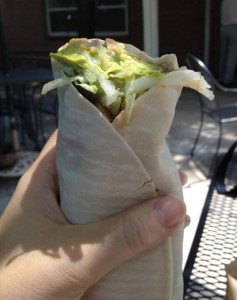 When I was going to UF everyone ate at Burrito Brothers, eventually.
It is still a college staple, like cheap pizza.  But it's really good and so the restaurant has a cult following.
You can buy t-shirts, and even order frozen burritos for delivery across the country. (click here if you want some mail-order burritos)
Burrito Brothers Taco Co.
1402 W. University Avenue Gainesville, FL 32603
(behind the Presbyterian Student Center)
open every day 11 AM-9 PM
A friend of mine moved to Gainesville a few years ago, and when I realized she has never heard about (or eaten at) Burrito Brothers.
I started quest – to make sure people get a taste of 'the Real Gainesville', complete with burritos.
The restaurant is in a little hole in the wall behind the Presbyterian Student Center, between University and 1st Ave.  You can enter from an alley on University or through the gate on 1st.  Go up to the window to order and pay… go for guacamole if they have it.  Grab a seat in the courtyard and wait for your number.
Oh, if you order their lime-aid you won't regret it.
I've been taking cousins there during their college tours, trying to make sure they get the full college experience.  (Yes, I am trying to bribe them with burritos to attend UF and move to Gainesville.)
It makes a great lunch or cheap dinner!